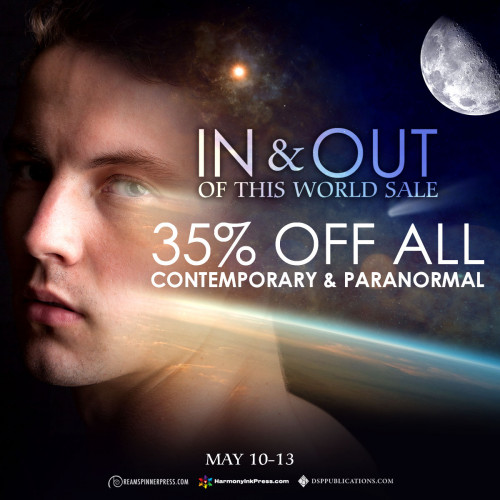 For a short time only, Dreamspinner Press have 35% off all contemporary and paranormal books – including the pre-order of Wight Mischief!
But hurry – the sale is only on from May 10, 2018 – 12:00 AM Eastern to May 13, 2018 – 11:59 PM Eastern. 🙂
Wight Mischief
A ghost of a chance at love.
Personal trainer Will Golding has been looking forward to a getaway with his best friend, Baz, a journalist researching a book on ghosts. But on the first day of their camping trip on the Isle of Wight, Will takes a walk on a secluded beach and spies a beautiful young man skinny-dipping by moonlight.  Ethereally pale, he's too perfect to be real—or is he?
Lonely author Marcus Devereux is just as entranced by the tall athlete he encounters on the beach, but he's spent the years since his parents' violent death building a wall around his heart, and the thought of letting Will scale it is terrifying. Marcus's albinism gives him his otherworldly appearance and leaves him reluctant to go out in daylight, his reclusiveness encouraged by his guardian—who warns him to stay away from Will and Baz.
The attraction between Will and Marcus can't be denied—but neither can the danger of the secrets haunting Marcus's past, as one "accident" after another strikes Will and Baz. If they don't watch their step, they could end up added to the island's ghostly population.
Second edition due out from Dreamspinner Press 1 June 2018